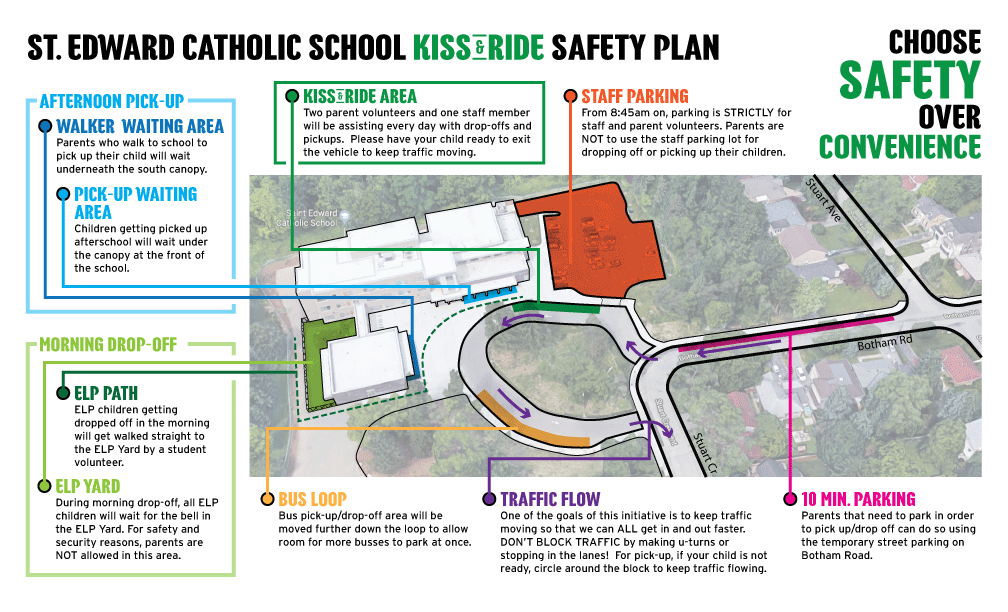 Choose Safety Over Convenience
The Kiss & Ride Safety Plan is to ensure everyone gets to where they need to go safely. This plan has been in the works for some time to ensure we have a plan that works for the St. Edward community.
This plan was put together by school administration with the help and input of CSPC, The Safe School Committee, YMCA, Toronto Parking enforcement, Toronto Police and Councillor Filion
HOW CAN I HELP?
The success of the Kiss & Ride Safety plan will be dependent on our wonderful school community stepping up and doing their part to make our streets safe. THE MOST IMPORTANT THING YOU CAN DO TO HELP IS TO FOLLOW THE RULES. The second most important thing you can do is to volunteer your time to help kids in and out of cars at the Kiss & Ride. Morning and afternoon rushes are over quickly. All it takes is 20 minutes of your time!
If you are interested and available to help:
email kissnride@stedwardcs.ca to find out when your child's class is scheduled to volunteer
email your class-parent for schedule info
Frequently Asked Questions
DO I HAVE TO USE THE KISS AND RIDE?
No. The Kiss and Ride is a service that St. Edward is providing to assist with traffic flow. If, for any reason, you do not wish to participate in the Kiss and Ride and are driving your child(ren) to school we simply ask that you park legally, do not block the buses and do not block the flow of traffic.
MY CHILD IS IN ELP.  SHOULD THEY USE THE KISS&RIDE?
ELP will not participate in the kiss and ride pick up after school to allow students to be delivered by their teacher directly to the parent.  They are, however, free to take part in morning drop-off, when a student volunteer will help walk your child to the ELP Yard.
HOW WILL THIS PERTAIN TO CHILDREN WHO ARE IN CAR SEATS AND MAY NOT BE WEARING A WINTER COAT?
If you/your child is comfortable with it, the parent volunteer will be helping them out of the car.  If you/your child is not comfortable with this, the parent can get out of the car to assist the child in getting out of the car but please be conscious of the rest of the cars lining up to drop off their children.  If you prefer you can park on Botham and walk them in to the school yard.
If you anticipate that your child will take a longer time to get out of the car, we suggest you try to arrive earlier (ie. before 8:45) when there will be fewer cars lining up.  Staff are in the yard from 8:30am to supervise students.  Arriving earlier means there will be fewer cars in the queue pressuring you to move on. 
WHAT IF I WANT TO CHAT WITH OTHER PARENTS?
We recognize that one of the reasons parents park during pickup is to socialize with other parents. This is one of the great things about our community and we encourage this! HOWEVER, if you are planning on staying longer than 10 minutes, please be considerate of other parents who need to get in and out quickly! Consider walking to school, or parking further away. Better yet, come to one of the many events that are planned at the school!
WHAT IF I NEED TO TALK TO MY CHILD'S TEACHER?
Morning drop-off and afternoon pick-up is generally not the best time to be approaching teachers about individual student matters. At this time teachers are supervising students and are not able to give you the attention the matter deserves. If you need to speak to your child's teacher, schedule an appointment through the office. If you have a scheduled appointment, staff will provide you with a parking pass for the lot.
WHAT IF MY CHILD IS NOT READY WHEN I COME TO PICK HIM/HER UP?
There may be times when your child needs a few more minutes to be ready. If there is no one behind you, you might wait. If it is one of the busier times, we ask that parents go through the kiss and ride, exit the loop and turn right. Going around the block will give your child a few moments to get to the Kiss and Ride. Please follow the instructions of the people helping facilitate the Kiss and Ride.
WHY AREN'T PARENTS ALLOWED IN THE ELP CHILDREN'S PLAY YARD?
Staff will be supervising this area beginning at 8:30am each day. In order to facilitate that staff can see children we ask that parents are not in the play yard. Additionally, as it is not possible for staff to know every parent or grandparent this initiative will assist us in keeping children safe. We would appreciate your support with this.